---
The family tree within this website is that of my father and mother, Ray Newcombe and Sheila née Knill and consists of their direct ancestors, siblings, cousins, colateral descendants and in-law (married) relatives etc. So anyone mentioned in the genealogy has some related connection to Ray and Sheila. It should be borne in mind that the people mentioned in the genealogy all have varying degrees of authenticity; for instance the early Newcombe pedigree has some assumptions made as to the exact lineage and include persons who may not be in fact correct; but are a best guess with the evidence available; the assumptions have to be made in order to try and construct a coherent chart. Even in the printed pedigree shown below there are several errors; so you cannot believe everything because it is in print! So don't take everything you see in my website as absolute proof positive! It's only a guide. The results of research should always reference sources and original documents are the only way to construct a family tree with veracity and even then the original documents should be graded as to their surety.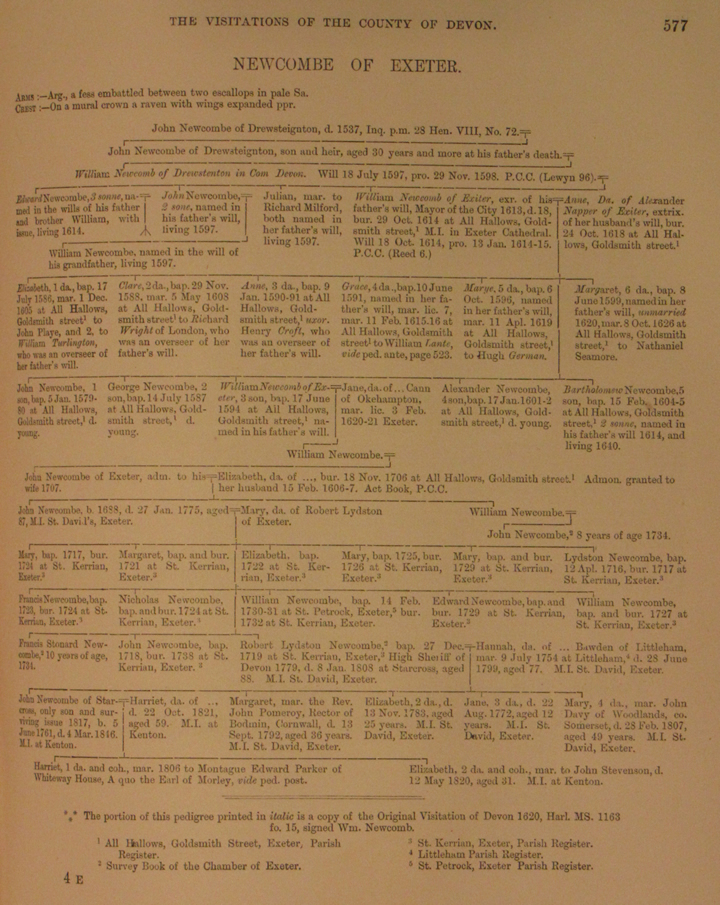 Visitations of the County of Devon, by J.L. Vivian
The Herald's Visitations of Devonshire with reference to the Newcombe family.
The Visitations of the County of Devon; in the year 1564, with additions from the earlier visitation of 1531, was compiled into a book by Frederic Thomas Colby and published in 1881 with references to his earlier publication the visitation of Devon in 1620. There is no mention of any Newcombe pedigree or of individual Newcombe associated with any other pedigree within this book; they are totally absent. So in 1564 there were no Newcombes sufficiently distinguished to warrant a mention by the heralds in their visitation to the county; but of course they may well have been prominent at that time but just not interested in having their pedigree entered into the herald's visitation or having their coat of arms registered; which would have incurred a fee. The Visitations of the County of Devon; in the year 1620, was compiled into a book by Frederic Thomas Colby and published in 1872. Some 56 years after the previous herald's visitation the Newcombe family living in Exeter thought themselves sufficiently grand to have themselves entered into this herald's visitation on page 197. Their rather scant pedigree records that William Newcomb of Exeter wed Ann the daughter of Alexander Napper (alias Napier) of Exeter; it lists their children and that William's father also called William Newcombe lived at Drewsteignton. However they did not have their coat of arms recorded. In addition to having their very own pedigree, they are found in the aforementioned book in association with the pedigrees of other distinguished families. Sic: Elizabeth the daughter and co-heir (no surviving brothers, but there are sisters) of William Newcome of Chagford on page 163, who wed Barnaby Knapman; Mary Poyntingdon of Shobrooke wed John Newcome of Crediton on page 219; Margaret Prouse of Chagford wed William Newcomb of Drewsteignton on page 223. Tucketts Devonshire Pedigrees, reproduced the pedigrees in the herald's visitation of 1620, but also illustrated the Newcombe coat of arms on page 38 as follows: Arms – Argent a fess embattled between 2 escallops sable. Crest – Out of a mural crown or a falcon rising sable Authorities – Harleian MSS 1080 folio 197b & 1163 folio 15. So the Newcombes of Exeter were recognized gentry and the other mentions of their relatives in Drewsteignton and Chagford show that they were marrying into other Devonian gentry families. John Newcome of Crediton was not a member of this Exeter / Drewsteignton Newcombe family; but perhaps a distant relative. The book called Visitations of the County of Devon, by J.L. Vivian, was an attempt to bring together the previous visitations of 1531, 1564 and 1620, correct the anomalies, add new details and bring some of the pedigrees up to date. In the case of the Newcombe of Exeter pedigree on page 577 it can be seen that the early Newcomb of Exeter pedigree found in the 1620 visitation has been reproduced with two older generations added; also there has been an attempt to link this pedigree with the Newcombes living in Exeter in the 19th century. On the face of it this looks fine, there are some accurate additions, but there are also several errors:
William Newcomb of Exeter in the 1620 pedigree names his father as William Newcomb of Drewsteignton; which can be corroborated through wills in the Prerogative Court of Canterbury; this and other documents prove a link from the Exeter Newcombes back to their gentry kinfolk living in Drewsteignton and Chagford, being their ancestral home; where they are found marrying into distinguished local gentry families and holding responsible positions in the locality such as jurors in the stannary court.
Of course any Newcombe in the 19th century would want to link to these earlier Exeter Newcombes, with their family history going back to the 15th century and earlier in the Chagford area. So we then find the 19th century family of John Newcombe, gentleman, High Sheriff of Devon, Justice of the Peace, wealthy, well connected and well married to Harriett Pleydell. This John Newcombe living at Exeter and Starcross provided his pedigree no doubt from the family muniments, wills and any other documents. John Newcombe used the coat of arms assigned to Newcombe of Exeter as did his father Robert Lydston Newcombe, his uncles, cousins and other relatives. Much of the pedigree can be verified through study of various parish registers and other documents held in the archives at the Devon Record Office and many new relatives can be added to the published pedigree. One notable error is the mention of Francis Stonard Newcombe as being the son of John Newcombe and Mary Lydston, when he was in fact the son of John Newcombe's brother William Newcombe and Mary Stonard.
These 19th and 18th century Exeter / Starcross Newcombes can be traced with veracity to John Newcombe and his wife Elizabeth who died at the beginning of the 18th century in Exeter, but in Vivian's pedigree shown above, John's father is named simply as William Newcombe, there are no other remarks nor the name of his wife. This William is then linked as the son of William Newcomb of Exeter who can be found as a son of William Newcombe and Ann Napper in the 1620 visitation; and who wed Jane Cann of Okehampton; this explains why there was a monumental inscription recorded in Okehampton church by Captain Simmons during the English Civil war, which is now missing; dated 8 April 1626 with the coat of Arms: Newcombe impaling Napper.
The parentage of the aforesaid John Newcombe and Elizabeth of Exeter is in truth unknown; likewise the descendants of William Newcombe and Jane Cann are unknown. The missing ancestor between the aforementioned John and William is purported to be William Newcombe but this is not known and in fact there may be a gap two generations!
Although the Newcombes of Exeter / Starcross thought they were descended from the ancient Newcombes of Exeter there is no evidence other that circumstantial i.e. they lived in the same city and they were the right class. However, John Newcombe and Harriet Pleydell had two daughters, their co-heiresses and one married into the Parker family of Whiteway House. This Parker family inherited the Newcombe's muniments chest with its' contents from the early 18th century, which are now lodged in the Morley of Saltram collection in the West Devon Record Office in Plymouth. Amongst these Newcombe documents there are several with references to Crediton and surrounding area where the Newcombes owned estates. In the 1620 visitation there is mention of Mary Poyntingdon of Shobrooke (northeast of Crediton) who wed John Newcome of Crediton; this John Newcombe was a gentleman, and the family were well established and connected with the gentry in the Crediton area. He is seemingly not related to the Newcombes of Exeter but rather his ancestors came from Inwardleigh near Okehampton. These Newcombes of Inwardleigh, Okehampton, Northlew and Crediton can be found referred to as gentry in numerous parish documents from the 15th onwards. They prospered in Crediton where there is a meadow beside the church named after them and near their home at Trobridge House is a Newcombe Copse.
It may be that in fact the latter-day Newcombes of Exeter descend from the Newcombes of Crediton and Inwardleigh; and not the ancient Newcombes of Exeter and Drewsteignton or Chagford! Now that may well 'upset the apple cart'!