---
My Notes on the Knill family of Braunton in North Devon.
Who are the Knill's; to me they are my mothers family and they lived in Barnstaple in North Devon. My maternal grandfather known to me as 'Pappy' was an ex-soldier and wore a neat pencil moustache and was covered in tattoos, collected from his foreign travels around the empire. He told me many stories of his army days and when he was a youth living in the nearby village of Braunton. His father was the village postman and also an ex-artilleryman. The Knill's came from Ilfracombe and pappy knew of several relatives from there; he remembered that he once walked from Braunton to Ilfracombe with his younger brother Claude to visit his aunt and uncle and how they were not given anything to eat nor even a cup of tea all the time they were there. They left for there walk back home to Braunton in the late afternoon and had only gone a short distance when Claude said he had left his cap behind at their relatives house; so Pappy went back for it and discovered them sat down to tea; but he still wasn't offered anything. His father John Knill was furious at the behaviour of his brother and sister and gave them a piece of his mind. Pappy said that the Knill's once upon a time owned half of Ilfracombe! I have found no proof of this although they were farmers of land at Warcombe, so perhaps they owned just a small part of the parish. At an earlier period the Ilfracombe Knill's owned land at Bickenbridge and the adjoining farm of Shelfin in Morthoe parish near Mullacott Cross. Fortunately there is in existence a will of Thomas Knill of Braunton, who bequeaths the farm of Bickenbridge to his son John Knill and so we have the link between the Ilfracombe area Knill's and those living in Braunton.
Unlike those families with common surnames such as Smith or Jones, the surname of Knill is rather rare. It is one of those fortunate surnames that can pinpoint the origin of a family with some preciseness. The ancient Copplestone family can trace there origin from Copplestone in which hamlet the ancient Copple Stone still stands as it has for over a thousand years. Other eminent Devonshire families can be traced to a small village or farmstead such as the Acland's who came from Acland Barton north of South Molton. In the case of the Knill's of Devonshire they can be traced to the parish of Braunton into the 14th century; and from this focal point spread out to the neighbouring parishes; some members of the family travelled farther afield but essentially they confined themselves to an area around the River Taw and the Northwest corner of Devon centred on Braunton. How many families can put their finger on a map and say that's where my family came from, from time immemorial?
It should be mentioned here that there is another Knill family group that do not originate from North Devon and they are the Knill's of Knill in Herefordshire whose earlier name was De Braose; they have a long and illustrious lineage. These Herefordshire Knill's are recorded as having held land in the area of Barnstaple; so it is possible that the Knill's of North Devon ultimately descend from these Herefordshire Knill's perhaps sometime before the 14th century as the Knill's are mentioned in Braunton in the 14th century but not earlier; although their surname is referenced in Devon in other research at an earlier date as follows:
The Devonshire surname Knill is Saxon. In the manuscript 'Ilfracombe Surnames' held at the North Devon Athenium: Knill is referenced as Old English cnyll, hillock (knoll; this makes one think of the hamlet of Knowle just North of Braunton).
In the book Place Names of Devon: Kneels is linked to J. de la Knylle (from the knoll) in 1304.
The manuscript 'Devonshire Surnames' gives Knill arising from an address. Old English, cnyll, knoll, Kneela in Black Torrington Hundred. John de la Knylle in 1301; J. ate Knylle in 1329; J. Knell 1428.
It should be noted that Knill is today pronounced as Nill with a silent K, but anciently the K would have been sounded. Many silent letters in English spelling would have been sounded years ago; and this new sound to our modern ears does illustrate the relationship with  Old English and modern Dutch or Frisian that still pronounce all the letters in a word.
John Knill, Mayor of St. Ives in Cornwall is the most famous representative of this Cornish and North Devon family and erected his mausoleum as a 50-foot (15 m) high granite obelisk known as Knill's steeple on Worvas Hill above the town of St. Ives; upon which he had inscribed his coat of arms: Gules, crusilly fitchee a lion rampant Or, and motto "Nil desperandum" (never despair). It is interesting to note that these arms assumed by John Knill were the arms of the Knill's of Knill in Herefordshire; but there is no proven link between the two families.
The Devonshire Lay Subsidy of 1332
By the Devon & Cornwall Record Society
Hundred of Braunton
Heaunton [Heanton Punchardon]
John de Knolle assessed at 12d
There is no mention of any Knill in the Lay Subsidy nor any other Knoll in the 100 of Braunton. There is a John Knyth at Berrynarbor, but whether this is a misinterpretation of Knill I do not know.
The surname Knyll is mentioned in 1420 in Braunton, in a document held by the North Devon Record Office: Feoffment "to Uses" (in trust), Reference: 3704M/ET1/4
Creation dates: 1420
Scope and Content:
William Andrew, John Cook junior and Adam Cook to Joan widow of John Do(mista)
All properties in Barnastapell and in the manor of the Dean of Exeter in Bra(unton) had of the gift and feoffment of John Domista, to Joan Domista for her life, with remainders to Richard Incledene and Cecily his wife, to the heirs of William Andrew, and to the heirs of John Knylla of Braunton.
Witnesses: Thomas M...on (?Milton); Andrew Alyn; Walter Symon; William Wyot; William Geffrey.
Dated: Wymysham, translation of St. Thomas the Martyr 8 Henry V (29 December 1420)
In the parish of Braunton there is a farm called Knills, which is situated in the hamlet of North Lobb; in fact it is situated West of North Lobb farm (mentioned as Loba in the Domesday Book of 1086). This place is probably named after the Knill owners of this farmland who built the farmhouse and outbuildings in circa the 18th century. In 1508 Thomas Knill held lands in the manor of Braunton Abbots at North Lobb (probably North Lobb Farm and the land on what is now Knills Farm), Braunton and at Bickonbrygde in Ilfracombe. His age was given as 47, so he was born circa 1441.
It should also be noted that there is a large hamlet in Braunton parish called Knowle and perhaps there is some etymological link with Knill and this place.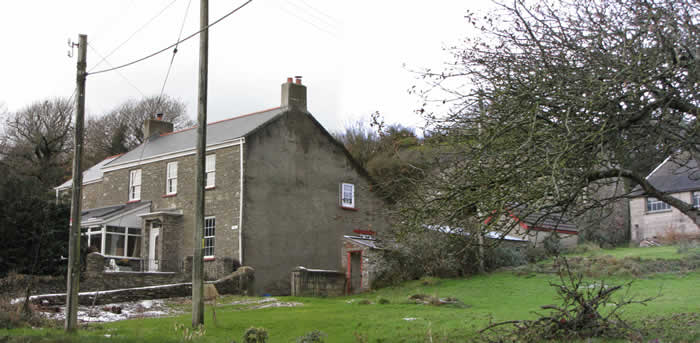 November 2010. Northwest view towards Knills Farm. Photo taken by kind permission of David Laramy of North Lobb Farm.

November 2010. North view towards the stone built Knills Farm; the older cob built North Lobb Farm is just off picture to the right. Photo taken by kind permission of David Laramy of North Lobb Farm.
To get a snapshot of where the Knill's are located in the 16th and 17th centuries I have copied out their references from the published tax lists (although these contain incomplete / illegible lists):
Devon Subsidy Roll of 1524-1527. By T.L.Stoate
Tawstock Parish
Thomas Knyll valued at Goods 12 (this was at the higher end of the values)
Martinhoe Parish
William Knyle valued at Goods 1
Braunton Parish (1524)
John Knyll valued at Goods 7 (this was above average of the values given)
? Knyle valued at Goods ?
Richard Knyle valued at Goods 3 (this was below average of the values given)
John Knyle valued at Goods 10 (this was above average of the values given)
Devon Subsidy Rolls of 1543-1545. By T.L.Stoate
Braunton Hundred:
Georgeham Parish (1544)
John Knyll valued at 1 (this was at the lower end of the values)
Berrynarbor Parish (1544)
William Knyll valued at 16 (this was at the higher end of the values)
Braunton Parish (1544)
Elizabeth (Kn)yll valued at 1
Elizabeth Knyll maiden valued at 2
Cecily Knyll wid(ow) valued at 12 (this was above average for the values given)
Clement Knyll valued at 12 (this was above average for the values given)
Mathew Knyll valued at 5
Richard Knyll valued at 1
Shirwell Hundred:
Stoke Rivers Parish (1544)
John Knyll valued at 10
Fremington Hundred:
Tawstock Parish (1544)
Thomas Knyll valued at 24 (out of 160 names in the parish this was the highest value)
Lewis Knyll valued at 1
Thomas Knyll junior valued at 1
Devon Muster Roll of 1569. By T.L.Stoate
Braunton Parish
Mathew Knyll junior – Harquebusier
Robert Knylle – Billman
Berrynarbor Parish
Sworn Presenter (of the muster list): William Knylle
John Knylle junior - Archer
Tawstock Parish
Sworn Presenter (of the muster list): Lewis Knylle valued at Goods 7 + 1 Harquebusier
Parkham Parish
Clement Knyll – Pikeman (this Clement Knill came from Braunton between 1544 & 1569; and is probably the ancestor of John Knill, Mayor of St. Ives in Cornwall)
Devon Taxes of 1581 to 1660. By T.L.Stoate
Braunton Hundred:
Braunton Parish (1581)
Robert Knyll valued at Goods 6
John Knyll valued at Land 1 (being valued in Land is generally not found and indicates a landed status)
John Knyll valued at Goods 3
Berrynarbor Parish (1581)
John Knyll sen(ior) valued at Goods 9
Fremington Hundred:
Tawstock Parish (1581)
Lewis Knyll valued at Goods 6
Black Torrington Hundred:
Clawton Parish (1642)
Hugh Knill valued at 5 s(hillings) (this was above average for the values given)
Pancrasweek Parish (1642)
Philip Knill valued at 7 s(hillings) (this was well above average for the values given)
Mably Knill valued at 1 s
Winkleigh Hundred:
Parkham Parish (1642)
Mathew Knill valued at 9 s(hillings) 4 d (pence)
Hartland Hundred:
Hartland Parish (1642)
Ann Knill wid(ow) valued at 4 s(hillings)
Woolfardisworthy Parish (1642)
Richard Knyll valued at 1 s(hilling) 6 d (pence)
Devon Protestation Returns of 1641. By T.L.Stoate
Black Torrington Hundred:
Pancrasweek Parish
Philip Knill
Shebbear Hundred:
Northam Parish
Edward Knill
Philip Knill
Braunton Hundred:
Berrynarbor Parish
John Knill
William Knill
Braunton Parish
Leonard Knill
Richard Knill
Richard Knill, Petty Constable
Georgeham Parish
Laurence Knill
Philip Knill
Mortehoe Parish
Robert Knill
Pilton Parish
Gilbert Knill
Fremington Hundred:
Fremington Parish
Richard Knill
Plympton Hundred:
Plymstock Parish
Hugh Knill (probably the Hugh Knill at Clawton in 1642)
John Knill
Mathew Knill (probably the Mathew Knill at Parkham in 1642)
Robert Knill
[These Knill's are probably the ancestors / relations of John Knill, Mayor of St. Ives and the Callington Knill's; who had Pike relations living in Plympton (an adjacent parish to Plymstock). The West Devon Knill's were living around the Bridgerule / Clawton / Pancrasweek / Pyworthy area of West Devon and over the nearby border in Cornwall. No Knill's are mentioned in the Cornwall Protestation Returns of 1641, nor the Cornwall Hearth and Poll Taxes of 1660 to 1664, both books by T.L.Stoate; so they migrated over the border into Cornwall sometime shortly after the mid 17th century].
Devon Hearth Tax of 1674 (& 1664). By T.L.Stoate
Braunton Hundred:
Barnstaple Town
John Knill 2 (not chargeable)
Pilton Parish
? Knell 1 hearth
John Knill of Pilland 1 hearth (1664)
John Knill a fuller ? (not chargeable)
Berrynarbor Parish (1664)
Nathaniel Knill 1 hearth
John Knill 2 hearths
Hartland Hundred:
Hartland Parish (1664)
An(ne) Knill 2 hearths
Woolfardisworthy Parish (1664
Rich(ard) Knill 4 hearths (this was above average for the values given)
Tho(mas) Knill 1 hearth
A brief account of the life of Warren John Knill; related by W.J. Knill (Pappy) to P.R. Newcombe his grandson.
Pappy was born 9 June 1909 and his earliest memory is when he was about four years old and living at 5 Wrafton Road, Braunton. He remembers seeing workmen leaving the nearby Isaac's Yard (wheelwrights and blacksmiths etc.) and they would ask him the time and he always replied "twenty to one", which became his early nickname. [He attended Braunton Infants School from 8 April 1913 until 12 June 1913 when he left for the upper school.] Granny Grigg (his mothers mother) lived with them until she died in 1915 and was buried at the Weslyan Chapel in Braunton. John Knill (Pappy's father) came home from the war in France for her funeral. There was some trouble over her will between Sid Grigg and Ben Grigg her brothers, concerning who should have the four poster bed (at 13 Wrafton Road, known as Cotswold Villas); John Knill had to separate them from coming to blows by putting them in separate bedrooms. They eventually agreed to toss a coin for the bed. Ben Grigg married Lucy Knill a sister of John Knill.
Pappy started school at the age of five and was involved in all the things a young 'heller' would get up to, he had several fights in Bias Lane in Braunton and used to play "Conkers" in the Autumn. Once he went out with a childhood sweetheart called Nimbo Butson but they had a row, so he pushed her in a hedge and peed in the hat she had been wearing; her father wasn't very pleased and Pappy got a tanned backside from his father.
When Pappy was twelve he started a part time job for C.H. Ellis a local butcher outside of his school hours. Every Monday morning he was awake at 6 a.m. and off to the butchers to get out all the knives, pincers, steels etc. for killing the pigs. He went to the shop at dinner times to wash down the butchers block of wood and cleaned the knives and collect sawdust from Isaac's Yard and lay the fresh sawdust on the floor, he made all the dripping etc. After 4 p.m. he delivered meat, fed the pigs at the back of the shop, helped in the slaughter house, cleaned the skins, put the tripe in the lime pit and then take it out and scrape it until lily white, then put it in a bowl and take it back to the shop where it was put on a slow fire to boil, then it was ready for sale. He also collected sheep from the fields for slaughter; all done for an Half Crown a week. He pumped the 'billuses' (bellows) for the organ in the Weslyan Chapel on Tuesdays for choir practice, Thursdays for organ practice and on Sundays for the service and was paid 6d for each turn. 
Pappy finished school at the age of fourteen and then joined Braunton post office as a telegraph boy and where his father worked as a postman. Pappy was christened Warren and his brother was Claude; they were both unusual forenames and some in the village thought they were a bit pretentious. An old lady who lived at Boode farm use to call Pappy – 'Wearin' instead of Warren; Pappy use to deliver telegrams in Braunton and walked with his father when he delivered mail to the small hamlets and farms like Boode in and around Braunton. He worked at the post office delivering telegrams for two years and was paid 3/6 (3 shillings and 6 pence) per week. While he was a telegraph boy he joined the 6th Devons Territorial Regiment and went to the drill hall two days a week and shooting on the .22 rifle range in Braunton Drill Hall. On some Saturdays he went to the big firing range on the Boode Road to shoot .303 rifles. He started at a range of 200 yards and progressed up to 600 yards. His army number was 5614171. He received his discharge papers to join the Somerset Light Infantry (S.L.I., 13th Regiment of Foot from 1925 to 1938) when he was 16 years of age, but upon joining told the recruiting officer that he was 18. On the 3rd September 1925 he went to the depot at Taunton to enlist into the 1st Battalion S.L.I.. Pappy joined for 7 years with the colours and 5 years on reserve and took the 'King's Shilling'. He did 6 months training at Taunton, which involved fitness in the gym, small arms weapon training, school for 1 hour a day to get his certificate of 1st class education. The subjects were arithmetic, geography, map reading, English and history of the regiment, of which Pappy remembered that it had been formed by the Earl of Huntingdon in 1685, then changed from a foot regiment to horses, known as Pearce's Dragoons and then back to a foot regiment again.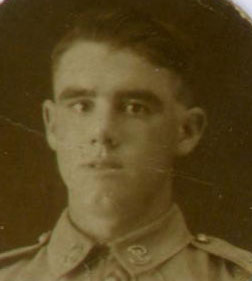 Warren John Knill, private in the Somerset Light Infantry (S.L.I.)
In September he was in a squad of about 30 men under Sergeant (Duffy) Moore who was one of the left-overs of the Great War and was finishing off his time. They went to North Ragland Barracks at Devonport in Plymouth (where I (Peter Newcombe) use to do .22 shooting on the indoor rifle range when I was in the Air Training Corps (A.T.C.) in the early 1970's and achieved marksman status and having a rifle sewn onto my uniform). At North Ragland, Pappy joined the main regiment and was in C Company. The regiment consisted of about 1200 men in 4 companies; A, B, C & D; the regimental headquarters staff and the regimental bugles and band which were also stretcher bearers / medics. Each company had 4 platoons and Pappy was in 11 Platoon. Pappy remembered going out on a forced march with his company and led by their commanding officer; they head out from the barracks for the road to Tavistock and after about fifteen minutes stopped to loosen or tighten their equipment straps. When well into their march a junior officer called Snow asked the colonel if he could fall out to go to the toilet, he was refused permission and as a consequence the company knew him as 'Shitty Snow'.
In 1926 during the General Strike he moved to Alcar near Liverpool to help keep law and order. Then returned briefly to Ragland Barracks before being ordered to Egypt. The regiment sailed from Southampton on the troop ship (T.S.) Neuralia (sic Nechralia).
[Troopships and their history. By Col. H.C.B. Rogers.
Page 164. In 1912 the British India (B.I.) Steamship Navigation Company) acquired two vessels which were to become the most famous of troopships. These were the 9000 ton sisters Neuralia and the second Nevasa. They were, and remained for the next ten years, the largest ships which B.I. Company had ever owned. They were intended for the U.K. to Calcutta service, but their possible employment as troopships had been taken into account in their design. They had twin screws with quadruple expansion coal-fired engines and a normal speed of 14.5 knots.
Page 179. The two famous B.I. ships of the inter war era were the Nevasa and the Neuralia. After the end of the First World War they had reverted to commercial use and had operated on the England to East Africa Service. In 1925, however, they were both converted into permanent troopships. Up until 1927 they were still painted in B.I. livery, but in 1928 they appeared in troopship colours. Neuralia in 1945 was ordered to take 1700 Yugoslav refugees from the Canal Zone (Egypt) to their own country. She landed them at Spoleto (Split) and then left for Taranto to embark German prisoners of war (POW). However, she never got there as she struck a mine and sank.
Page 178. City of Marseilles. Ellerman City Line.
In 1930 Bibby Line were asked for another trooper, and the Lancashire, which had returned to ordinary passenger service, was accordingly taken in hand for conversion. In due course she joined the Somersetshire and Dorsetshire on the regular trooping runs, relieving the City liner "City of Marseilles".]
The Neuralia voyaged and docked at Gibraltar then Malta before arriving at its destination of Port Said. The regiment then embarked on the Egyptian State Railway to Ismailiya on the Suez Canal where they camped at Nelson Lines by the railway tracks, on the other side of the tracks were the Royal Scots in the Kitchener Lines. Pappy was picked out to look after the horses and mules. They stayed at Ismailiya patrolling the Suez Canal for about 18 months. Whilst there, they formed a guard of honour for Prince Albert who passed by on H.M.S. Renown, they stood alongside the canal for three hours and the Prince did not get off the warship to inspect them; Pappy was not impressed by this behaviour. The regiment then moved to Kasratmil Barracks in Cairo (now the site of the Cairo Hilton near the Museum of Antiquities; I visited this place when I was working in Egypt) and near King Farouk's residence on the banks of the River Nile. Pappy was moved from mule duty to horses which drew the general service wagons. Every day he went to Abu Sia to collect rations; one wagon for meat, one for bread, one for fodder for the animals. Pappy said he had carved his initials on the Sphinx! He did nine months desert training at a place called Polygon and whilst their took part as an extra in a motion picture film called "Tommy Atkins" which was made in the "red hills"; he took part in moving the mules.
[The black and white, 35mm,silent film "Tommy Atkins" was made in 1928 and footage was 8363ft.
SYNOPSIS
Drama. A man wrongly assumed the title of Earl of Petherton and is forced by blackmail to continue the deceit; his son and the real Earl are both in love with the same girl, she eventually marries the Earl after the other son is killed in battle.
Rl. 1. At a small army post in the Sudan 1895, a servant tells Captain Eric Wilson that his wife has been killed by native tribesmen while out riding, and that the tribesmen are coming towards the fort. The alarm is wounded, but before the soldiers leave to meet the natives, Wilson entrusts his small son Harold, to the care of the trader, Mason (859).
Rl. 2. Mason and Harold escape in a wagon but are soon overtaken by a band of tribesmen who quickly overpower them. Meanwhile, the soldiers from the fort march out in to the desert. The natives, hidden in the surrounding dunes, encircle them and open fire. The British soldiers fire back, but have little chance; the entire contingent is killed, including Wilson. A year later, in England, the death is announced of the Earl of Petherton, who never recovered from the shock of the death of his son and heir, together with his wife and son. The title now goes to a distant relative, George Wilson-Howard, who is surprised to receive a visit from Mason and Harold. Harold is introduced to the Earl's son Victor and his ward, Ruth.
Rl. 3 Mason tells the Earl that the newspaper report was incorrect and that Harold is the real Earl; he tells of how he and the boy were held prisoners by the natives, until one night, after attacking the guard, they were able to escape and eventually return to England. Mason asks for £1,000 a year to pay for his silence if not, the Earl robs his own son of the title and family fortune. The Earl agrees on the condition that Harold should stay with him and be brought up with his won son and ward.
Rl. 4. Mason agrees to this and leaves Harold with the family. Years later Victor has joined the army while Harold has entered the Church. Both men are very much in love with Ruth, who has kept the ring that Harold gave her when they first met as children.
Rl. 5. After the Earl tells Ruth that Victor has been in love with her for many years, Harold asks him for permission to ask Ruth to marry him; this the Earl refuses. When Harold states that he will ask Ruth to wait until his wardship ends the Earl demands that either Harold must transfer to another parish or else have his allowance stopped. Meanwhile, Victor has proposed to Ruth and given her a ring.
Rl. 6. Mason visits the Earl and Victor overhears the Earl refusing to give another penny. Mason then demands £10,000 or will expose of the Earl as an imposter and a thief. Victor enters and his father confesses the truth to him; as Victor turns to threaten Mason, the Earl collapses and dies. Harold, who has seen Ruth's engagement ring, tells her that he is leaving never to return. Victor tells Ruth the news and although she still loves him, he insists on giving back her freedom.
Rl. 7 Mason announces to Harold that he is the real Earl, but because of his love for Ruth and Victor he refuses to claim the title. He enlists for the army and before long is drafted out to Egypt.
Rl. 8. Harold has joined under the name Tommy Atkins. In Egypt the soldiers are notified of the arrival of the Earl of Petherton, who is to take command of the fort. Victor arrives and recognises Harold while he is on sentry duty; he explains that he has been searching for him and confesses everything. The alarm is given that the Arabs are attacking the fort. During the battle, the magazine is blown up, ammunition runs short and reinforcements are urgently needed. Victor refuses to let Harold go for help, sending another soldier for aid from the next British stronghold.
Rl. 9. After two days, the soldier, on the point of collapse, reaches the next fort and help is sent out. They arrive just as the Arabs break into the fort, having killed most of the British. Victor is wounded and after telling Harold that he is the Earl, dies in his arms. Harold is one of the few survivors and later is able to return home and claim Ruth as his bride (7739ft).]
In 1928 the regiment had orders to move to China. They travelled by train from Cairo to Said then to Ismailiya, where they embarked on T.S. "Somerset(shire)" or "City of Marseilles"? They voyaged to Aden, then Bombay, then down to Colombo in Ceylon where they were allowed to leave the ship for three days. Then voyaged to Singapore and allowed off for a few days. From there they steamed to Hong Kong but landed at Kowloon and marched to Shan-shuip-po to the Hankow Lines and Nanking Lines which were divided by a wide road; Pappy was in the Nanking Lines. They later caught a ferry over to Hong Kong island and were stationed in Murray Barracks, which was a bad place for ring worm; Pappy caught one on his chest; I saw the site of these barracks when I was on holiday in Hong Kong. Whilst there, Pappy looked after the Polo ponies, racing ponies and the officers wives mounts. They went up river to the Chinese city of Canton to deal with the "atrocities" between "Reds" and "Ironsides", but always arrived to late to maintain order. Pappy had some photographs of the "atrocities" but these were confiscated. He also went on patrol against pirates and smugglers.
In 1930 his regiment moved to Wellington Barracks at Nilgiris in southwestern India (Cochin). Whilst there he had to keep civil order, especially during Ramadam, between the Muslims and Hindus. He went out with some mates in a flat bottomed boat to shoot crocodiles and did shoot one that was nearby. They then dragged it into the boat, only to find that it had been stunned and then became conscious; so Pappy and his pals had to jump out of the boat and swim for the bank; he never went crocodile hunting again from a boat. He remembers swimming on the beautiful beaches but had to keep their boots on, especially when walking through the jungle. Once, he and his mates set a trap for wild dogs with an old empty oil drum, with a flap that would fall down when the dog was inside eating the bait. When the trapped had been tripped, they would encircle the fallen lid armed with "rounder" clubs whilst one opened up the lid. Then out charged the dog, which was promptly beaten to death; but on one occasion and in the heat of the moment they mistakenly clubbed the commanders Bulldog, which they then secretly buried post haste.
When he returned to England he was discharged from the army and became a postman, he lived with his parents at 13 Wrafton Road, Braunton. When he married in 1934 he then lived with his wife Alice in Church Road, Braunton.
At the outbreak of World War Two, Pappy had been called up into the Royal Artillery and was stationed at Southsea in Portsmouth with his wife and children. But due to the war and prospect of bombing the family returned to North Devon and rented a house at 23 Pulchrass Street in Barnstaple, where gran lived until the early 1980's.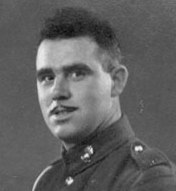 Warren John Knill, corporal in the Royal Artillery (R.A.)
Pappy was sent to France with the expeditionary force. He remembers fighting the Germans around Arras in northern France, but never ventured into Belgium. He recalled some close contact fire fights in the towns and villages as they retreated back towards Dunkirk. He well remembered the Luftwaffe bombing Dunkirk and the fighter aircraft strafing the soldiers on the beach. He had to wade through the sea to a small boat that transported him out to a Royal Navy warship, but he could not remember its' name. He told me that he saw his life flash before his eyes as he expected to die on that beach at Dunkirk.
He was then transferred to an anti-aircraft battery located behind a pub at Canford (Magna) near Poole. Whilst their he travelled around the area and remembered the series of villages with Tarrant in their names to the north of Canford. When I was working as a site engineer for Bovis Civils constructing a refuse transfer station at Hurn Airport in 1978, I took the opportunity to visit the site of where Pappy had his searchlight set up beside the pub (The Willett Arms, Oakley Hill) in Canford and also travelled out through the Tarrants.
Pappy was an instructor for a time and once in a close contact combat lesson was hit on the head with a rifle butt and bore the scar for the rest of his life.
He was not in the initial D-Day landings, but once the bridgehead had been achieved he did go to Cherbourg in Normandy as a truck driver. He then returned to England where he eventually ended up living back home in Barnstaple, where in the latter years and just after the war he was in charge of a prisoner of war camp at Bratton Fleming near to Berry Hill. It was while he was here that he discovered that Berry Hill was a good source for picking mushrooms. He would organize the prisoners to pick them and load them into the army truck and then free-wheel from Bratton for miles downhill toward Barnstaple where they would be sold in the pannier market. I have been many times to Berry Hill picking 'horse mushrooms' and well remember the family outings there; once I drove there with my gran in the 1980's and we picked 19.5 pounds in 45 minutes and they tasted handsome. Pappy also took the prisoners to the "Braunton Great Field" to pick bulbs etc, but recalled that he had to keep the Germans and Italians separate or they would start fighting and he also had to separate out the Germans and Nazi Germans. Pappy attained the rank of Staff Sergeant.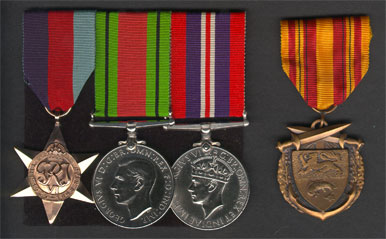 Medal group belonging to Warren John Knill, sergeant in the Royal Artillery (R.A.)
Part of Pappy's army life can be found vicariously in:
The History of the Somerset Light Infantry (Prince Albert's), 1919-1945. Compiled by George Molesworth. Regimental Committee Somerset Light Infantry. [Frome: printed by Butler & Tanner Ltd., 1951]. xvi. 286 pp., portraits, maps. 9 3/4"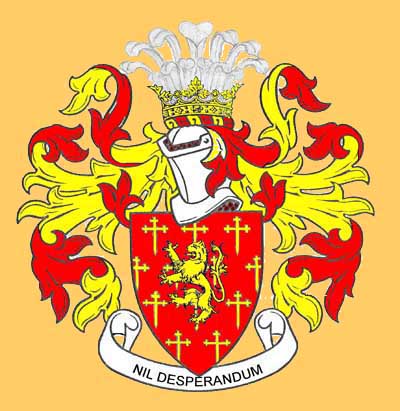 The Knill coat of arms, used by the Knill family of Knill in Herefordshire and assumed by John Knill a Mayor of St. Ives, Cornwall who was a descendant from the Knill's of Braunton in North Devon.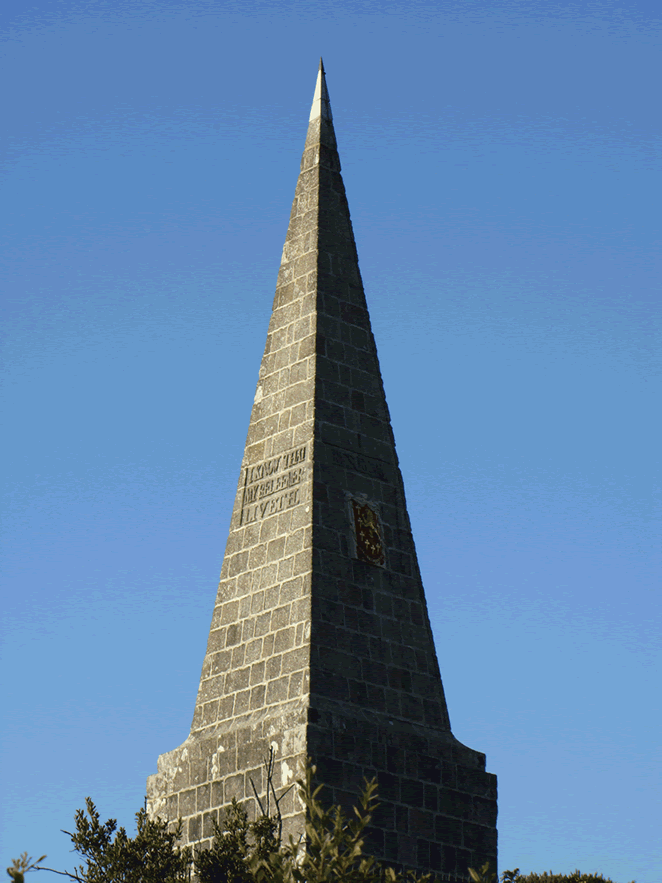 Knill's Steeple on Worvas Hill above St. Ives was commissioned by John Knill in 1792 and cost £226 1s. 6d. It was built as his mausoleum, but he died as an attorney at his chambers in Gray's Inn Square, London on 29 March 1811 and is buried in St Andrew's Church, Holborn. For John Knill's biography see the 26 page pamphlet published in 1871 titled "John Knill 1733-1811", printed by R. Cunnack, Market Place, Helston.
Click on the following hyperlink to access my research on the Newcombe and Knill genealogies Newcombe & Knill Family Tree.