---
In 1994 I wrote a book concerning the history of the Devonshire family of Newcombe. It was the result of many years researching which started in 1974. The book itself was privately printed and bound by myself so that I could pass on the information and conclusions that I had reached during over 20 years of study. It is my view of the history of the Newcombe's of Devonshire, to which I hope others will be able to draw benefit and help in their research. No doubt there will be criticisms and different opinions of what I have written, but to write nothing and let my research go unrecorded would be the greater crime; how many family historians have had their lifetimes work go unnoticed, unrecorded, lost or thrown away. To quote the Duke of Wellington, "publish and be damned".
It is my intention to review my book and enhance it with further images of better quality. My deceased cousin Maurice Newcombe of Newport in Wales has also written and privately published his own history of the Newcombe's, using many of my research notes and data, but also much new original work undertaken by himself; he has been very energetic and enthusiastic in his pursuit of Newcombe's around the UK, America, Canada, Australia, New Zealand, South Africa and rest of the world; whereas I have tended to be less enthusiastic in making contact with distant cousins due to the amount of time involved; this website is not a sign that I now wish to communicate with the rest of the world - I still have a demanding full-time job and many other hobbies.
Excerpts from my book:
A SHORT ACCOUNT OF THE NEWCOMBE FAMILY OF BRAUNTON,
THEIR KINDRED AND THEIR ORIGINS. By Peter R. Newcombe.
Origin of the Newcombe's in Devonshire:
The Newcombe family have been long resident in the county of Devonshire and as such are recorded as a 'County Family' in the Heralds Visitations of the 16th and 17th century. The usual spelling of the surname in the county of Devon is Newcombe, but there are many variations before the spelling was standardised. e.g. Neucome; Neucum; Newcom; Newcomb; Newcome; Newcum; Nucome; Nucum; Nucumb etc. If you use your imagination on how the surname sounded phonetically then there is probably a corresponding spelling for it; also bear in mind that centuries ago literacy and spelling was somewhat erratic and people spoke differently than they do today, which only compounds the problem of the Newcombe etymology.
The Newcombe family have been long resident in the county of Devonshire and as such are recorded as a 'County Family'. The earliest occurrence of the name in Devon is given in the Crown Pleas of the Devon Eyre of 1238, published by the Devon and Cornwall Record Society. This book mentions under the district of Hemyock Hundred; William Niwecumbe, an approver, was hanged before William de Raleghe and his fellow gaol delivery justices. The jurors testify that Rannulf de Cerne, the then sheriff, took goods worth one mark from his chattels, so to (do) judgment on him. This was probably the gaol delivery ordered for 27 March 1232, at which the four justices already appointed were instructed to act on William de Raleigh's advice. The reference to Rannulf de Cerne suggests that William had been arrested at least a year before his execution as Rannulf's administrative period ended in April 1231. It is interesting to note that Hemyock Hundred borders that of Hayridge Hundred wherein lies the parish of Kentisbeare and near the eastern boundary of the parish is situated Newcombe Common and below it in the valley Newcombe Bottom, perhaps this is from where William Niwecumbe took his surname. Also at this time is recorded from some notes of the Devon Assize Roll dated 1238; Richard le Neucomen, which would mean Richard the 'new comer'. Further research into the early rolls may well reveal more instances of the family name, but from researched and printed sources which are generally available to the public, the location of the family can be charted from the early 14th century.
There are several unrelated Newcombe families throughout England, but generally speaking there are two main families bearing the name of Newcombe and its variations such as Newcome, Newcomen etc. The most well documented is the Lincolnshire Newcomen's whose ancestry stem from Hugo le Neucomen (the new comer) and who lived in the reign of King Richard I the Lion Heart (1189-1199) at Saltfleetby on the flat fenland coast of Lincolnshire; they were ethnically probably Normans. They were a great dynastic family and had several fortunate marriages into the gentry and nobility of the area. The representative of this family in Ireland, Robert Newcomen was created a baronet in 1625 and they were eventually raised to the peerage of Ireland as Viscounts. A brother of this Sir Robert called Elias moved to Devon as Rector of Stoke Fleming church, his brass memorial dated July 1614 is fixed to the wall of the chancel and is inscribed with the family coat of arms and various quarterings. His descendants remained in the area for several generations, the most notable being Thomas Newcomen of nearby Dartmouth, the inventor of the steam engine.
The other main Newcombe family are those whose roots lie in Devon, they are Saxons and from which most bearers of the name in that county are descended. Their origin is obscure and the meaning of the name is not as clear cut as might be imagined. The name is normally given as a derivative of 'the new comer', a newly settled stranger in the locality. This is based on the direct translation of the name itself and reinforced by early medieval spellings with the 'le' prefix meaning 'the'. In all probability this is the most likely meaning of the name, but it should not be overlooked that the name could derive from a place. There are a great many surnames in the Westcountry and in particular Devon that end in 'combe', which means 'valley', such as Widdicombe, the Withy (willow tree) valley, Tincombe, the Teign (river) valley, Brimblecombe, the bramble valley and many more similar examples can be found; So perhaps Newcombe is named from a valley also. The argument being that Newcombe, Newcome, Newman etc. often mean a newcomer, so does New, but New also means 'a dweller by a yew tree'; The early Saxon version of the name being 'At the yew', which changed to 'Atte yew' then to 'Atten yew' , 'Nyew' and then to 'New'. Newcombe therefore could have originally meant 'At the yew (tree) combe (valley), which in time was shortened to 'Atten yewcombe', then to 'Nyewcombe' and finally to it's more modern variants. Mr. C. Spiegelhalter BSc, mentions in his 'Notes on the names in the Subsidy Rolls for Devon, 1332'; Nycomb - Possibly for Nyu comb which is itself for Newcome, the newcomer. In nine cases out of ten in medieval records this surname has been associated with 'combe' and the present spelling is Newcombe. In Spiegelhalter's research paper '1332 Lay Subsidy Roll, notes on the names in the Barum (Barnstaple) rec(ord)s of the 12th, 13th, 14th and 15th centuries'; It is mentioned that Newcombe (1428-64), Newecombe, Newecomb, Newcomb, Nywecomb, Neucomb, is a nickname, 'new comer' and no connection with 'combe'. Also in 'Barnstaple Surnames' he gives Newcomen., Newcombe. R(ichar)d Nywecomb, 1427 and R(ichar)d Nywecomene, 1332 as deriving from new comer.
In the 'Episcopal Registers, Diocese of Exeter, for John de Grandison 1327-1369'. Under the year 1327, folio 103, at Bovey Tracy; Sir John de Neucome, priest, was installed at Chudleigh, 20th January; Patrons, Brother Thomas de Cadecote, Master of the Brethren of the Hospital of St. John Baptist, Bridgwater; Here we should note the 'de' prefix to Neucome which means 'of Neucome'. The Hospital of St. John Baptist, Bridgwater, Somerset was located in the diocese of Bath. This meant that Chudleigh's ecclesiastical revenues were largely assigned to that foundation. Like other mediaeval 'hospitals', the Bridgwater house dispensed charitable hospitality to infirmed persons and pilgrims; but it much resembled a monastery and it followed the Augustinian Rule. King Henry VIII's quarrel with the Pope (being a personal dispute which had wider religious and political consequences) resulted on the 5 February 1539 as part of the dissolution of the monasteries, the Bridgwater Hospital being surrendered to government commissioners.
Also in the research paper 'Devonshire Surnames', it gives Newcombe - Nickname, Newcomer. W(illia)m Niewecumbe 1238; J. Nucumbe 1510. Not a place-name, but if John de (of) Newcome is not an error for le (the) Newcomen he may have come from Newleycombe Lake also known as Newleycombe Brook, Walkhampton. This is a valley joining the Meavy valley above Sheepstor, which is one of the earliest mentioned places for tin mining which began in about 1150 and is located on the western slopes of Dartmoor at the head of Burrator reservoir. Newley in Newly combe comes from the Anglo-Saxon neowel, 'profound, deep, a deep gulph'; an essentially accurate description of the combe. In 1443, the name is spelt 'Newelcombe'; Lake, means a brook, a tributary stream. If Newcombe were to derive from a place, then Newleycombe is ideally suited, as it lies close by the concentration of the families bearing the name in the 14th century.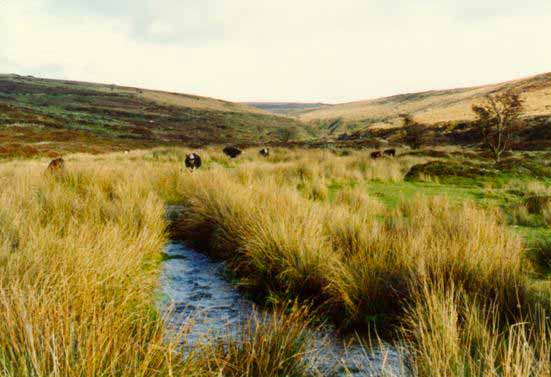 East view of Newleycombe Lake on Dartmoor.
There is also mentioned in Monasticon Dioecesis Exoniensis the abstract of Otterton Cartulary of Otterton Priory. No. 33, dated about 1259. Agreement between the abbot and convent of St. Michael's and William Blondel concerning Hedlonde. The former grants to Blondel, 'Prestelonde' and 'Pilemore', with the wood bordering the two brooks of 'Grandecumbe' and 'Nieucumbe' for the yearly payment of 5s 6d. Blondel is to be entitled to pasnage (pasturage) for six hogs 'in majore bosco' (in the large wood), etc. (Walter Blondel). The location of Pilemoor at Washfield is Pylemor in 1249, Priestland Copse at Bampton is Le Pristes Lond in 1549, Hatherland at Washfield is Hederlond(e) in 1286, Grantland in Poughill is Granteland in 1242, there is no Nieucumbe, but there is a Newland in Poughill written as Niwelond in an earlier document. Grantland and Newland are located next to each other in their own valleys separated by two hills between which is a wooded valley, a stream runs in both valleys that eventually joins Holly Water. All are in West Budleigh 100 just north of Crediton.
Today the surname Newcombe is widespread throughout Devon and other counties, if a map of Devon was marked today which showed the location of the Newcombe's then most parishes would be represented. Mark the same map from occurrences of the surname in the 1851 census and again their distribution is widely scattered through the county, it was not a rare surname. With the help of published government records such as the Devon Hearth Tax of 1674, Devon Taxes of 1660, Protestation Returns of 1641, Devon Taxes of 1581, Devon Muster Roll of 1569, Devon Subsidies of 1543-5, Devon Subsidy Rolls of 1524-7 and the Devonshire Lay Subsidy of 1332, the same map can be marked to show the name distribution at various dates through the centuries and it will be noticed that it's pattern location contracts with time and centres on the north to east slopes of Dartmoor between the parishes of Okehampton and Chagford; This area can be regarded the ancestral homeland of the Saxon Newcombe's.
The Newcombe's of the Chagford area are a major grouping of the family and there is quite a bit of written documentation available through which the surname can be traced; they are centred on a tin working area and amongst other things they dealt with tin. This occupation in tin has resulted in certain information not being readily available or being non-existent. A study of the various tax rolls, musters, and other revenue books do not always include those people who were tinners or lived under the ancient customs of the so called 'tinner's parliament'. Through the aforementioned books we can glean a reasonably clear distribution of the surname in Devon except perhaps for the stannary (tin assaying) towns where tinners were exempt from taxation and were governed by their own laws. In 1201 King John granted to the Tinners of Devon and Cornwall a charter giving them free status, which was confirmed and defined by King Edward I in 1305. The Tinners were freemen and exempt from tallages, tolls, stallages and aids, the only tax they had to pay was the Lay Subsidy which was a tax on a tenth or fifteenth of the value of the taxpayers possessions; In their next charter of 1327 they were exempted from this tax also. It is interesting to note that in the Devon Lay Subsidy of 1332, Chagford only has two men assessed for tax, neither of which can be regarded as coming from the greater landed gentry of the parish and nor were they Newcombe's although we know they were in the area in 1378. However one of those named was Walter atte Yo assessed at 8d (pence). Could it be that this Walter was an ancestor? If he was resident 'at the Yo' (Yeo) in 1332 it could have been only one or possibly two generations before John Newcombe is recorded as having lived there. The word 'yeo' means 'water' in old English, but in the case of  the 'Yeo' river, at Crediton, this was actually written as 'on eowan' in the 11th century and 'Iouwe' in 1238, 'Iou' in 1244 and 'Yew' in 1630, all of which refer to 'yew (tree) stream'. So it is not inconceivable that the Chagford 'Yeo' derived from 'yew', indeed the present day ancient buildings at Yeo are located astride a small stream in the bottom of a valley that feeds into the nearby South Teign River. Walter atte Y(e)o or 'at the yew (tree stream in the combe)' could have also been transformed to Walter atte Yew combe, to atten ewcombe and eventually Newcombe, this is pure conjecture and it must be mentioned that in the neighbouring parishes there is Stephen atte Comb' in Throwleigh, Walter atte Combe in Great Fairwood, Richard atte Comb' in Moretonhampstead and several others many with prefixes to the 'combe', all of which could have tacked on a prefix which resulted in Newcombe so as to distinguish themselves from other unrelated families. In the 1332 Lay Subsidy the closest we can get to Newcombe is Peter Nycomb assessed at 8d in East Portlemouth which is not close to our ancestral area and Richard Nywecomena assessed at 10d at Teigngrace which is about 12 miles from Chagford and further down stream on the River Teign just below the confluence with the River Bovey. Despite all the aforementioned speculation to etymologise Newcombe as deriving from a place, I believe the most likely choice still lies with the more common etymology of a 'newcomer'; sic, Richard Nywecomena, John Nywecomene, John Newecomene atte Yeo and Thomas Nycomene atte Yeo.
There are several places in Devon that have the name Newcombe, which was probably caused by it's connection with an owner of the same name:
Newcombe Meadow west of Crediton parish church and also Newcombe House in the same vicinity.
Newcombe's Copse, a wood south of Trobridge House / Farm which is located south west of Crediton and which was occupied by the Newcombe family in the 17th century.
Little Newcombes, a farm at Shobrooke east of Crediton.
Newcombe Farm at High Bickington, was named after the Newcombe's who farmed there.
Newcombe Common, Newcombe Errish and Newcombe Bottom are on the parish borders of Kentisbeare and Sheldon.
Newcombe (Nieucumbe) Brook in Poughill.
Newleycombe Brook, Walkhampton. Also known as Newleycombe Lake (in the Devonshire dialect Lake means Stream or Brook), which in 1444 is recorded as Newelcombe. In the Cornish langauge Newlek means misty / foggy / hazy and Combe means valley. Newleycombe is located on the west side of Dartmoor and no doubt a damp and misty valley!
Newcombe Farm at Luxborough in West Somerset was farmed by James Newcombe in 1641.
Newcombe Wood part of Colliscombe alias Coombe Barton in Cheriton Fitzpaine.