---
The Newcombe's of Chagford in Devonshire:
It is not certain when the Newcombe's adopted their surname for although there is the odd instance of the name recorded in the early 13th century, it does not appear to be regularly used or perhaps it is more correct to say recorded, until the mid 14th century when the Chagford Newcombe's appear in written records. In the 1st year of the reign of King Richard II (9 May 1378) John Nywcomene paid 2s (shillings) rent as a tenant in the Manor of Chagford, later he is recorded as John Newecomene atte Yeo paying 6d (pence), atte Yeo meant that he lived at the freeholding of Yeo (meaning, 'water'), a property on the South Teign River, which lies amongst a tangle of medieval lanes to the southwest of Chagford. To loosely quote W.G. Hoskins, 'Yeo consists of a fascinating group of farmhouses and ancillary buildings. They probably represent successive periods of rebuilding on one farm. The present farmhouse occupied by the Perryman family since 1545 is mainly of eighteenth century date. But in the yard is a large granite building now used for a barn which has a fireplace on the upper floor, so revealing that it was a dwelling house when it was built in the fifteenth century. And farther up the yard stands an even older and decidedly primitive building, now used as a cowhouse, where another and much cruder fireplace indicates its original use as a dwelling. This, all on one ground floor, may well date from the fourteenth century and could have been the home of Walter atte Yeo who is named in a tax assessment of 1332. Even this was probably not the first house on the site; I think it highly likely that Yeo was one of the Domesday farmsteads in the manor of Chagford. Somewhere in this little complex of ancient buildings there must lie the remains of the eleventh century farmstead and possibly of one or two predecessors'.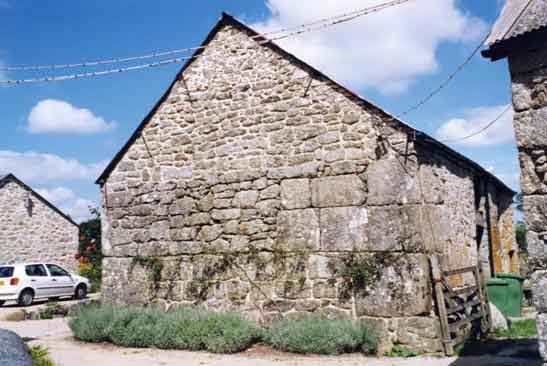 North view of the 15th century Newcombe Hall house, showing the massive granite stone building blocks.
The Yeo property passed to his son and heir Thomas Nycomene atte Yeo who bought lands and tenements at nearby Frencysber (Frenchbeer), which was acquired by the Perryman family by 1434 and Yeo passed to his son John and grandson John Nucombe junior who witnessed an indenture on the 28th October 1504 at Chagford and in 1510, 1532 and 1533  was named as one of the Jurates in the Stannary Court of Chaggeford, when tin output reached a peak in 1515 of rather more than 470 thousandweight (252 tons) and he no doubt sat for Chagford as one of the 96 representatives of the four stannaries in the ancient assembly of the stannary parliament at Crockern Tor. In 1305 Chagford was made one of the three original stannary towns to which tinners had to bring their metal for assay and stamping (coinage), though it had been acting in this capacity for a considerable time before this. Yeo is an old granite stone building with some very interesting out-buildings, of which one had been used for smelting tin and was known as a 'Blowing House'. By 1545 Yeo was occupied by the Perryman family of nearby Frenchbeer.
John Newcombe was later residing at Ayreston (Easton) in the manor of South Teign in 1525, which he bought from John Seynthill of Exeter on the 21 April 1539 (30 Henry VIII). He also owned Great Worthy now called Great Tree, a farm in the parish of Drewsteignton and not far from Easton. He was mentioned in the Inquisitions Post Mortem 28 Henry VIII (1537) No. 72. His son and heir John Newcombe of Great Worthy was born about 1500 and was mentioned in an indenture dated 1555 as John Newcombe of Eston (Easton), he married a daughter of Coode of Gidleigh Castle and according to Thomas Westcote in his 'View of Devonshire', this couple were the ancestors of the Newcombes of Chagford and Drewsteignton through their son William of Drewsteignton, who wed a daughter of a Burrington and the Crediton Newcombes descend through their son John Newcombe who wed a daughter of the Down family (this link to the Newcombes of Crediton is erroneous).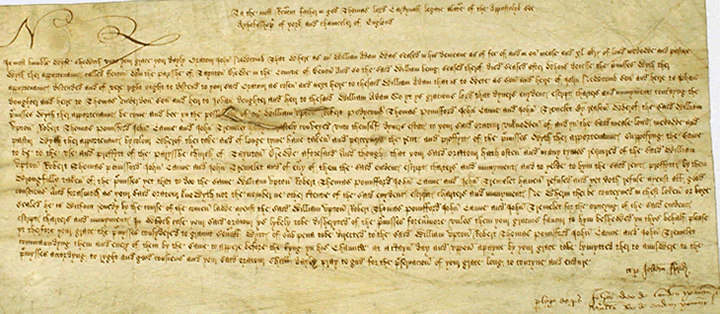 The above document from the National Archives at Kew ref. C1/548/41 dated 1518-1529, is rather extraordinary. It details a legal dispute between John Newcomb of Taynton Drewe (Drewsteignton) and several other villagers concerning the possession and use of land at Fenton (Venton) in the said parish. What makes this a remarkable document is that John Newcomb states that Fenton is his by right of succession from his mother Johan, heir to Thomas Underdon (Underdown), who was heir to his mother Johan, who was heir to William Adam of Fenton. This covers 5 generations and William Adam could have been born circa 1395. What else lies undiscovered in the voluminous archives of England?
The Newcombe's who remained in the Chagford area married into other local gentry families, thus maintaining their social status; William Newcombe of Drewsteignton wed Margaret the daughter of John Prouz of Chagford Esq. on the 21 September 1601, the Prouz's ancestors built Gidleigh Castle and descended from Peter Prouz of Eastervale who wed Mary daughter and heir of William Redvers Earl of Devon and she was the widow of Robert de Courtenay Baron of Okehampton, Viscount of Devon, Sheriff of Devon and Governor of Exeter Castle who died on the 26th July 1242. This was clearly a very prestigious marriage and an advancement in their social standing. Other marriages did not have so illustrious ancestries but were nevertheless with armigerous families, although inevitably the younger and poorer members of the family wed into the lesser squirearchy of similar standing.
The Newcombe's of Exeter in Devonshire:
The Exeter branch of the family were founded by William Newcomb a son of William of Drewsteignton and his wife, the daughter of a Burrington. He was a draper apprentice to Alexander (Sandy) Napper, a wool merchant and who descended from the noble Napier's of Scotland. He wed Sandy's daughter Anne and in 1578 became a Freeman of the city of Exeter and joined the Guild of Merchant Adventurers in 1599, he became Mayor of Exeter in 1612-13. He was entered in the Heralds Visitation of Devon in 1620, which he signed. The Coat of Arms which the family used were: Argent, a fess embattled between two escallops in pale, sable; with the Crest given as: On a mural crown a raven with wings expanded proper, also given as: On a mural coronet or, a Cornish chough (or sometimes written as a falcon or eagle) rising proper. They are also recorded as having used the Crest: A demi-horse argent, gorged with a chaplet vert.  His third son William Newcombe wed Jane Cann of Okehampton in 1620 and when he died in 1626 he was buried in Okehampton church, which is recorded in a diary of Richard Symons a Captain in the Royalist Army of the Civil War. Who wrote that 'a flat stone in the south aisle of this church, this coats:- a fess embattled upward between 2 escallops (Newcombe) impaling a saltire engrained between 4 mullets (Napper), William Newcombe of Okehampton obit. 8 April 1626.'  William and Jane's granddaughter, Mary, wed Mr. Henry Parminter of Barnstaple on the 4 January 1693 in Exeter, after their death, their descendants erected a marble wall memorial to their memory in Marwood church. The Arms of Mary Newcombe are shown as: Argent, a fess embattled between two escallops in pale sable; with a Crest as: On a mural crown or, a Cornish chough wings raised and inverted proper (i.e. sable, beaked and legged gules).
The Exeter Newcombe's prospered and several held the office of Alderman and Mayor in the city. But their highest honour came when Robert Lydston Newcombe reached the rank of High Sheriff of Devon in 1779, his tomb casket lies in the southwest corner of St. David's churchyard and bears the family Arms, his achievements marked the zenith of family prestige.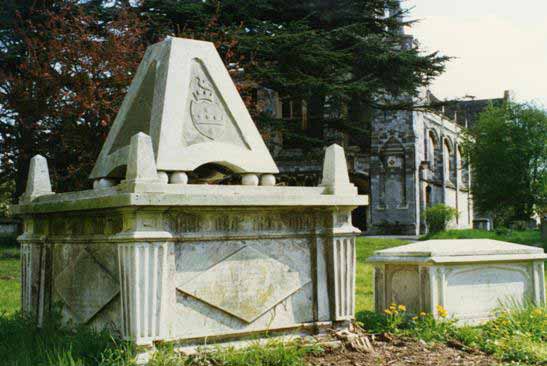 The tomb of Robert Lydston Newcombe, High Sheriff of Devon in 1779, in the southwest corner of St. David's churchyard, Exeter.
His only son John Newcombe of Starcross wed Harriet Pleydell of Whatcombe in Dorset and their funeral hatchment is displayed in Kenton church. This shows their arms as: Argent, a fess embattled between two escallops sable, impaling, Argent, a bend gules gutty argent, between two choughs proper, a chief chequy or and sable (Pleydell). Crest: On a mural coronet or, an eagle wings elevated and inverted sable. Mantling: Sable, or and argent. Motto: Resurgam (rise again).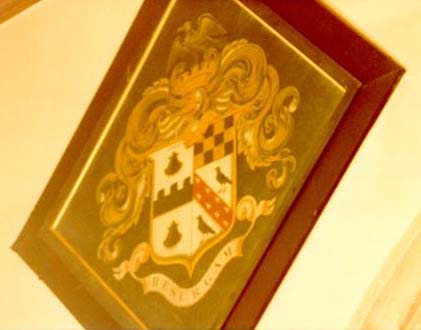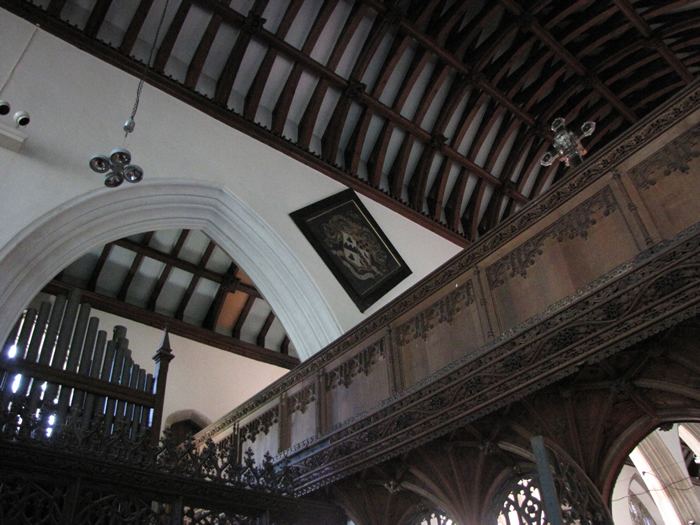 The Newcombe funeral hatchment inside Kenton church on the south nave wall above the fine rood screen.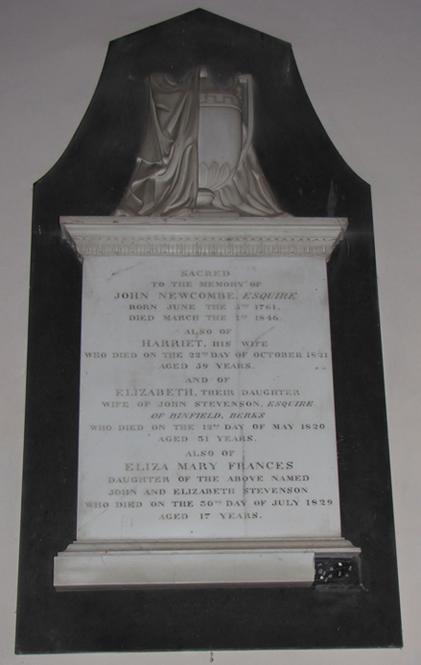 The Newcombe marble monument inside Kenton church on the south wall.
This family was the representative of the Devonshire Newcombe's by virtue of their wealth, social standing, family connections, honours and ancient Devonian landed gentry ancestry. They had finally arrived at the threshold of true greatness, which would take them beyond the parochial class of the Devon squirearchy and on to perhaps the nobility. But misfortune struck in the form of the lottery of life and John Newcombe and his wife Harriet Pleydell were dealt only two daughters, Harriet and Elizabeth. These two being co-heiresses took their portions of the Newcombe inheritance to there husbands, in the case of Harriet she wed in 1806 Montagu Edmund Parker of Whiteway, whose daughter Harriet Sophia wed her second cousin Edmund Parker 2nd Earl of Morley. Elizabeth wed John Stevenson, second son of Robert Stevenson of Binfield Place, Berkshire. These Exeter Newcombe's had nearly made it to the high society and one can only muse at what might have been.
A relative of Robert Lydston Newcombe was the Rev. James Newcombe; John and Henry Woodman are his descendants and are in possession of some Newcombe heirlooms, which they have very kindly allowed me to show on my website.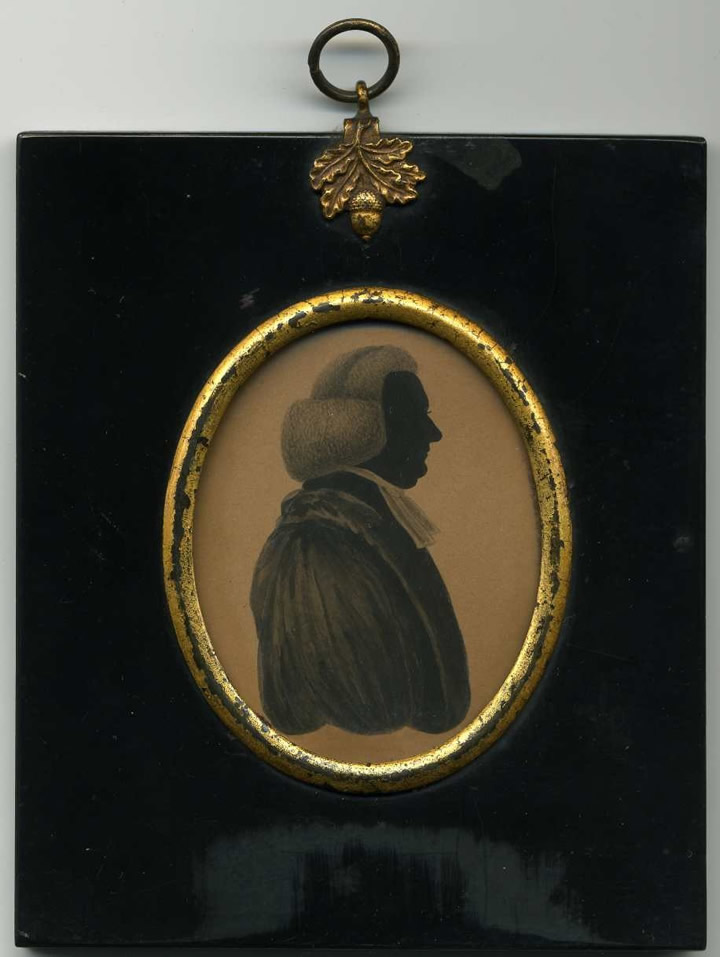 A miniature of the Rev. James Newcombe.
John and Henry Woodman believe the naval portrait of Francis Newcombe was painted when he was in his 40's. He was a notable captain in the Royal Navy and saw action in the Napoleonic wars. Also shown is the Newcombe crest and motto 'POSSE ET NOLLE VERE NOBILE' from a silver salver hallmarked 1830, to which John Woodman mentions that according to his family tradition roughly translates as 'To be able to do harm and not to do it, is truly noble'.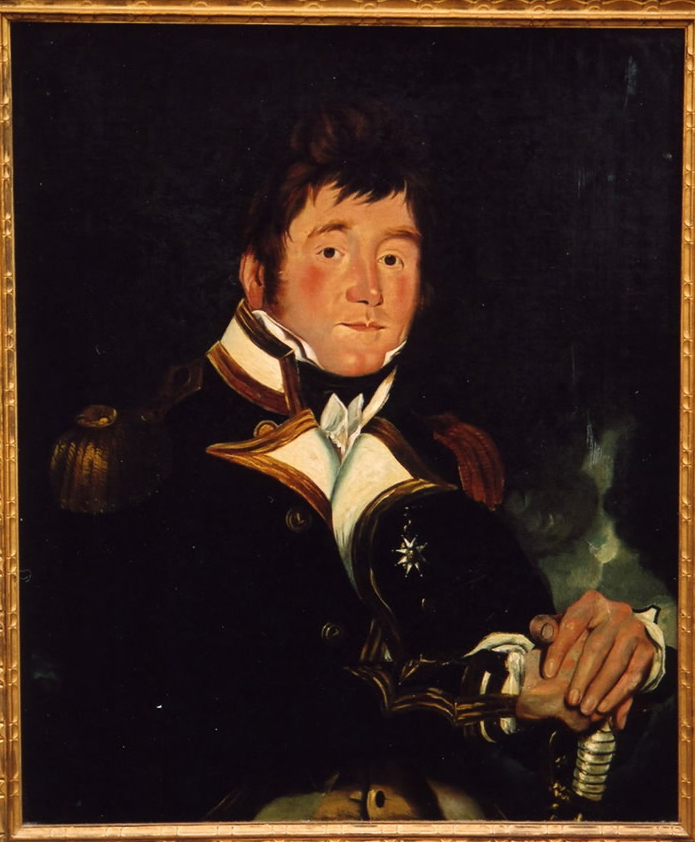 Capt. Francis Newcombe, R.N. 1772 – 8 December 1841; wearing the star of a Companion of the Bath.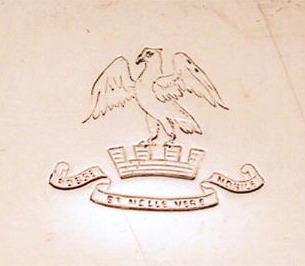 Newcombe Crest and motto.