---
The Newcombe's of Northlew, Inwardleigh and Okehampton in Devonshire:
The Newcombe's of Braunton were a farming family and licensed victuallers, and descend from George Newcombe who moved to Braunton from Northlew in the mid 18th century as a retainer to the Woolcombe family of Ashbury, near Northlew; The Woolcombe's were an ancient Devonshire family and held many estates in the county including at Inwardleigh. This George Newcombe (junior) of Braunton was the son of George Newcombe (senior) of Northlew and Inwardleigh.
Moving on to the ancestry of George Newcombe (senior), he is identified along with his brother John in an indenture of 99 years or three lives for Hore Hill farm at Northlew dated 3 April 33 George II 1760. It is between George Newcombe of Northlew, yeoman and Christiana Maria Stevens of Cross, Little Torrington. George is aged 33 years therefore he was born circa 1727 and his brother John is aged 21 therefore born circa 1739 and crucially William Newcombe (brother to George junior) the son of George is aged 7, therefore William was born circa 1753. There is a general discrepancy of four years for their birth dates when compared to a similar earlier indenture document dated 1756; which indicates the need for caution when assessing how old someone really was. These indentures are significant in linking George Newcombe (senior) (whose christening has not yet been found) with his brother John whose birth can be estimated at between 1735/39 and consequently his christening has been found in the baptism register for Inwardleigh dated 15 September 1735, as the son of George and Mary Newcombe; without this documentary evidence for John, the inferred parentage of his brother George Newcombe (senior) would not be known. So by the lucky survival of this indenture document we can assume that George's parents were George Newcombe and Mary of Inwardleigh. This gives an answer to the second query in the Newcombe ancestry.
George Newcombe wed Mary Jermin (alias German) on the 2 November 1714 at Inwardleigh and they had many children christened in the parish church from 1723 onwards. However before 1723 this couple are not mentioned in the Inwardleigh registers for the baptism of children; so between 1715 to 1723, when George would have been born his place of baptism is not known, but they may have lived elsewhere at that time and for instance in the small neighbouring parish of Ashbury the surviving baptisms register does not begin until 1813, as the earlier registers were alas lost in a fire in 1833. George Newcombe (the husband of Mary) is named in the Terrier of the Rectory of Inwardleigh in 1747. He is also mentioned in the will of his father George Newcombe in 1721, in which he is to receive the estate called Westlakes and part of Barton and a capital lease. So we can see that at this time the Newcombe's were yeomen farmers.
The aforementioned George was the son of another George Newcombe and Elizabeth Northleigh, who wed 23rd August 1687 at Inwardleigh. Elizabeth Northleigh was a daughter of the gentry family of Northleigh of Northleigh Manor in Inwardleigh; so George (who was a wealthy and prominent man) married well or depending on your point of view perhaps Elizabeth did not marry so well. George was a Churchwarden of Inwardleigh in 1691. His will was proved on the 29th May 1721 and from the inventory we can see that he owned a substantial amount of property:
Estates called Lower Living in the town, £150.
Graddons tenement in Inwardleigh, £50.
Part of the Barton of Inwardleigh Down, £140 (which was inherited by his son George).
Smardon in Inwardleigh, £25.
Pudson in Inwardleigh, £20.
Millhouse in Inwardleigh, £20.
Sum £701 16s 0d.
The House of Commons Research Paper 99/20, dated 23 February 1999, reported on the purchasing power of the pound from 1750 to 1998. This report found that prices had risen broadly by 118 times. George Newcombe's £701 would thus be worth about £82,800.62 today using the retail price index which compares the cost of purchases of the typical household in that year with the cost today; sometimes referred to as the "Cost-of-Living Index". But this does not reflect the true increase for property values; it doesn't take much imagination to realize that the Millhouse in Inwardleigh costing £20 would be conservatively worth over £150,000 today; which is a 7,500 fold increase! If the other estates in George Newcombe's will also contained buildings, then his willed property of £405 could be valued at over £2,000,000 today.
When he was buried on the 30th March 1721 he was named as George Newcombe the son of Will(iam). Newcome and Wilmot. But this identification with the aforementioned George is not so certain as there are other candidates and the lack of wills and extant parish registers makes the identification of the Newcombe family difficult to reconstruct. I therefore cannot have so much confidence in the identified ancestry of the last mentioned George; it is apparent however that many Newcombe's were significant personages in the Inwardleigh and Okehampton area and whilst individual family groups can be further reconstructed, exactly how they all relate to one another is not known for sure.
The Newcombe's were a large family living in the area of Northlew, Inwardleigh and Okehampton and who can be roughly traced to the early 15th century. It is quite likely that they share a common ancestor with the better documented Newcombe's of Chagford which is only 8 miles away. This juncture of the two clans must have been before the middle of the 15th century but nothing definite can be found through lack of written evidence. The assumption is based on the following occurrences:
The Okehampton Newcombe's are only 8 miles from those at Chagford and the surname is liberally scattered about the other parishes between and surrounding Okehampton and Chagford from at least the early 16th century, as evidenced in the extant tax rolls.
The Okehampton Newcombe's stem from the landed gentry class as were their 'cousins' in Chagford and held high civic office in the town, being Portreeves, Mayors and one was Vicar in the early 15th century.
John was a popular family Christian name with the early Newcombe' s in both families. Which can lead to confusion when trying to decide which John, of what generation, we are trying to research. Perhaps the early John's of Okehampton are the same persons as their counterparts recorded in documents for Chagford?
A John Newcombe of Crediton descended from the Chagford branch according to Westcott, although in his will dated 1608 he states that he was born in Inwardleigh and consequently he bequeathed money to the poor parishioners.
William Newcombe of Exeter and a descendant of the Chagford Newcombe's, was buried in Okehampton church where his grave was marked with his Coat of Arms.
If a family member of the Newcombe's of Okehampton were found to bear the same Coat of Arms as the Newcombe's of Exeter, Crediton or Chagford then their claim to be of the same stock would be apparent. Unfortunately no documents have come to light which can corroborate this theory, but perhaps there is something somewhere waiting to be discovered, although the destruction of nearly all the Devonshire wills by the German bombing of Exeter in May 1942 during the Second World War does create a major obstacle. This is surely the greatest disaster in the world of English archives in recent times and destroyed probably a hundred thousand wills and perhaps half that number of inventories. The loss of the wills was an irreparable disaster for genealogists, for only a small fraction had ever been copied; and the destruction of the inventories was a major blow to the writing of the social history of Devonshire families as a whole. As gentry, and civic dignitaries the Newcombe's would have to seal various documents, sometimes using the civic seal, or borrowing a friends seal to be used as the common seal for all those witnessing a document, or using their own personal seal where they are perhaps theonly signatory. A study of the many civic papers lodged by the Borough of Okehampton in the Devon Record Office in Exeter, has revealed a number of references to Newcombe's giving signatures and seals. None of the seals resemble those of the Arms associated with the Chagford Newcombe's but on one document ref. 3248 A/11/681 dated 19 January 1680 concerning the sale of some timber at Westacott in Inwardleigh parish, the major signatory is John Newcombe and against his signature is a seal; This depicts a shield circa 7mm across, surmounted by an helm and mantling, there is no crest on the helm but the shield is showing: On a chief dancette, an arrow in pale, point uppermost between two birds, as they appear legless (or at least have no talons) they could be martlets, wings closed facing dexter. There are no hatchings from which the tinctures may be discerned. As John Newcombe is the only signatory in close proximity to the sealed document, then it can be assumed that the aforementioned Arms are his own. They are not recorded in Papworth's Ordinary of British Armorials as belonging to any family whatsoever. Nor are they found in any heraldic books under the surname of Newcombe, so one must assume that he used them without heraldic authority, which is not an unknown practice. So as would be expected from a gentry family, they were armigerous and we are indeed fortunate to find the evidence considering its' unofficial use.
John Newcombe of Inwardleigh, gent(leman), died in 1711 and the inventory of his estate was viewed on the 22 August 1711 by George Newcombe (this could be could be the aforementioned George who wed Elizabeth Northleigh in 1687). This John used the coat of arms: On a chief dancette emaunchee an arrow palewise point uppermost between two birds (which appear to have no talons, so they could be martlets) wings closed; crest: a hawk rising wings expanded and inverted, jessed and belled. The tinctures are unknown.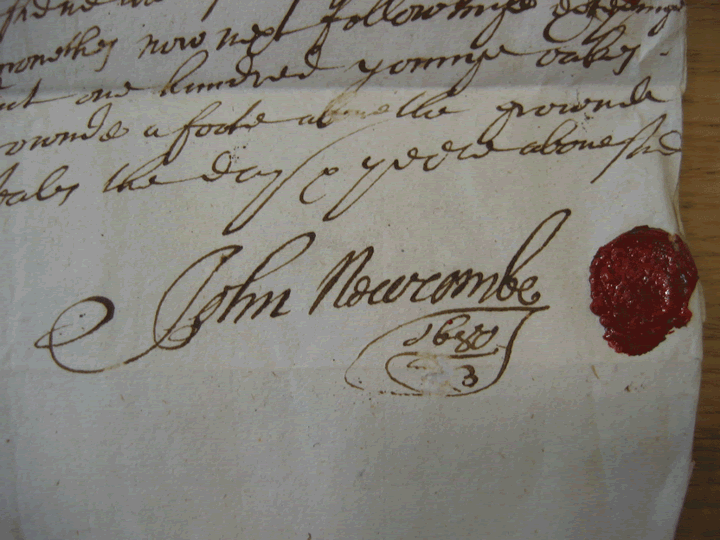 Devon Record Office; Document ref. Okehampton 3248 A/11/681 dated 19 January 1680. John Newcombe's signature and seal.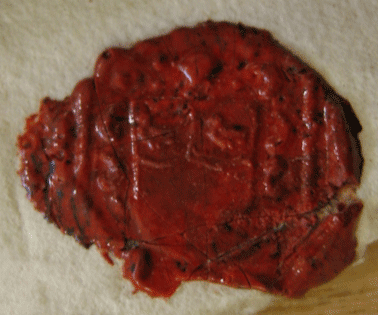 Devon Record Office; Document ref. Okehampton 3248 A/11/681 dated 19 January 1680. Enlarged view of sealed arms.
There is also another document ref. 3248 A/11/682 dated 2 February 33 Charles II (1680), wherein is mentioned that the mayor and burgesses of the town and borough of Okehampton receive £40 from John Newcombe, mercer of Okehampton and of Westcott in the parish of Ingworthy (Inwardleigh). Against the signature of John Newcombe is a seal being in the shape of an oval ring 16mm top to bottom and 13mm left to right, in which is depicted a hawk or falcon rising proper, wings expanded and inverted, legs belled; This is somewhat reminiscent of the Chagford Newcombe's crest but without the coronet.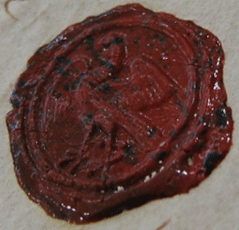 Devon Record Office; Document ref. Okehampton 3248 A/11/682 dated 2 February 33 Charles II (1680). John Newcombe's seal.
It appears possible that the aforementioned armigerous (although unrecorded by the heralds) John Newcombe is something like the 7th great grand uncle to Ray Newcombe. It is from the aforementioned research that I have assumed that the Braunton Newcombe's (i.e. Ray Newcombe) should adopt these coat of arms suitably emblazoned.

Armorial bearings of John Newcombe of Okehampton, Northlew and Inwardleigh (not tinctured);
Arms: Gules, on a chief dancette of two pieces (emaunchee) azure, an arrow (or bolt) in pale, point uppermost argent, between two (plump) martlets wings closed facing dexter or.
Crest: A hawk (I have chosen a Goshawk) rising, wings expanded and inverted proper, belled or.
Drawn (with assumed tinctures) by Peter R. Newcombe ©.
Motto: Advena dubium Neucomes (Newcomers doubt and not companions) i.e. doubt the word of a stranger before that of your friends. This is a motto having a punning reference to the surname Newcombe in Latin; and also when translated into English. This motto has been devised by Peter R. Newcombe and has no historical significance. The martlets are an heraldic form of the Swift or Swallow and shown alongside the arrow or bolt could signify a swift arrow. Perhaps a Newcombe was an accomplished archer or crossbowman?
It should also be mentioned that there were some Newcombe's anciently settled in east Devon and one of whom named as John Newcombe of Littleham had his will proved on the 17 August 1691 and recorded by the archivist Miss Moger. He sealed this will with the arms: On a field of ? two bars (azure?); Another example of unoffical personally assumed arms that by chance has survived in a document.